Top 5 Trends in Training & Developing Talent
Training and development is a critical aspect of an organization's talent management strategy. Every organization needs to invest in it to attract and retain talent and grow their employees' knowledge base and capabilities. Here are five current trends influencing training and development.
Trend #1: Training is a means of keeping, developing, and rewarding talent.
Training has evolved into not only a means of developing employees' skills, but also a strategy to retain, develop, and reward key talent. In ERC's 2012 Talent Management Practices Survey, the majority (57%) of organizations say they use training and development opportunities as a strategy to retain top or key talent and 61% use it as a way to reward and recognize employees.
These findings aren't surprising, given the consistent trends in what talent is looking for in a job. Challenging work and career development/advancement opportunities continually rank among the most important attributes talent seek. These also tend to be some of the most common reasons that talent leave their current organizations. Talent typically wants to stay at organizations that invest in them and reward their performance with new developmental opportunities.
If employees don't have goals, structure, and a chance to grow - they have a tendency to 'wing it.' Even if they're a top performer... their talents won't be utilized at the highest level, and the company and employee both suffer.
In the past, most companies dealt with training and development like a band-aid... used only to 'fix' issues as they came up. Today, more and more organizations are using the nutrition metaphor. Good health can't just be a one-day resolution - it's a lifestyle. These companies are creating a culture of 'continuous learning'.
Trend #2: Investments in training and development remain strong.
ERC's research, in addition to national research, shows that organizations are continuing to make strong investments in training. Specifically, consider the following statistics taken from our 2012 ERC/Smart Business Workplace Practices Survey, 2012 ERC Talent Management Practices Survey, and 2012 NorthCoast 99 Winners Report.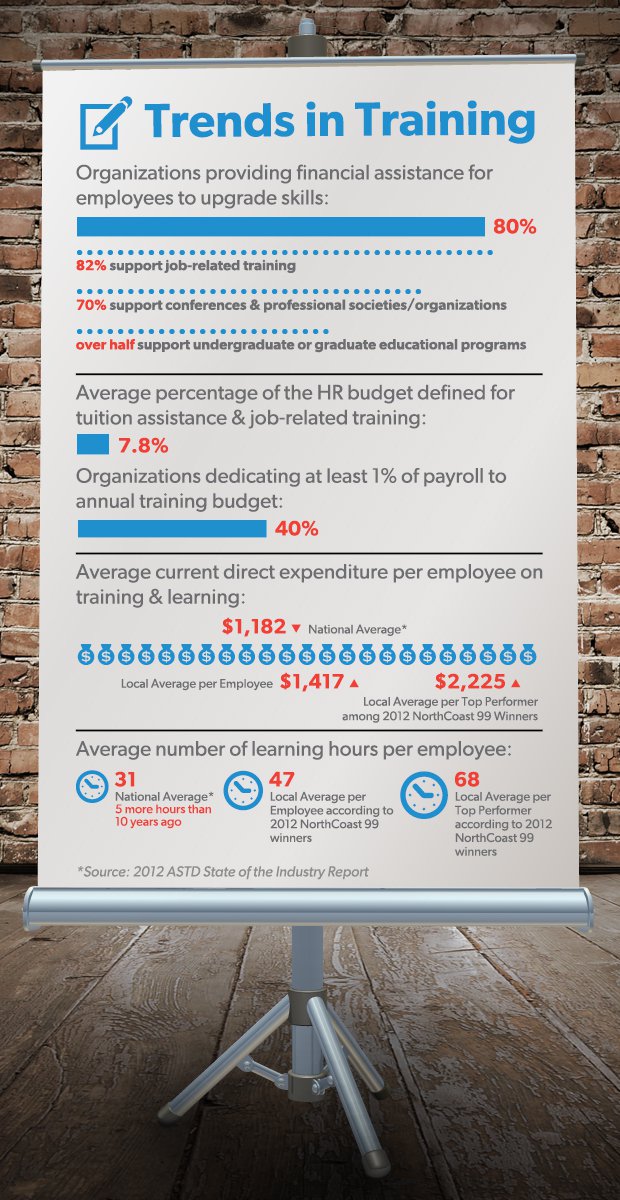 Trend #3: Managerial and supervisory training is the most common type of training.
According to the 2012 ASTD State of the Industry Report, the top three types of training which account for 36% of learning content were managerial and supervisory; profession- or industry-specific; and processes, procedures, and business practices. Mandatory and compliance and interpersonal skills topics were also among the most common types of training.
Locally, findings are similar. The most common types of training and development programs offered by organizations, per ERC's 2011/2012 Policies & Benefits Survey are supervisory and management development courses. Courses for computer skills and leadership are also very common.
Trend #4: Training and development methods are evolving.
ERC's Consultants of Talent Management indicate that organizations are not simply utilizing traditional classroom learning; rather, they're incorporating online classes, webinars, mentor programs, and self-based learning. Companies are also focusing more on making the training individualized and customized to their particular workplace culture.
Survey research also supports this evolution in training methods, as offerings of professional and career development benefits (i.e. mentoring programs, certification/recertification fees, professional memberships, etc.) seem to be rising (Source: 2012 SHRM Employee Benefits Survey).
That being said, there's no question that job training is still one of the most common training methods, based on current survey research. But, other forms of training are certainly gaining ground as organizations increasingly adopt blending learning tactics (a mix of different methods of learning such as formal workshops, follow-up reading, and mentoring) and the "70/30/10" method of learning with 70% of learning coming from on-the-job experiences; 20% of learning from others through coaching, mentoring, networking, etc.; and 10% of learning from formal training courses.
Webinars and e-learning are also common as a format for training. In fact, 67% of organizations say they offer web-based training such as webinars and e-learning, according to the 2012 ERC/Smart Business Workplace Practices Survey. Use of web-based training and e-learning has consistently increased over the years. In fact, over 30% more employers are offering web-based training than in 2005. Learning via mobile and social networking are also set to increase in the next couple years.
Trend #5: Training and development drives results.
More research continues to show that training impacts the bottom line. ERC's research through the NorthCoast 99 program shows that organizations which invest more money in training report lower turnover of employees and top performers, higher promotion rates of top performers, and higher engagement and satisfaction.
National research also points to a connection between learning and actual business results such as turnover, engagement, and profit margins (Source: Bersin & Associates).
---
Making investments in training and development and continuing to evolve your training and development content and methods is not only "trendy" by today's workplace standards, but very important to the attraction, retention, development, and engagement of top talent – and your bottom line.
Additional Resources
ERC offers many training courses—including soft-skills, technical training, and even e-learning—to develop and enhance the skills of managers, supervisors, leaders, and professionals of all levels in the organizations. These courses can be delivered at a local of your choice and customized for your audience, and several are offered at ERC throughout the year.