The Female Golfer: Playing for Success
An Interview with Jamie Taylor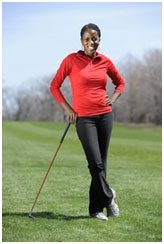 Jamie Taylor, a Cleveland Metroparks LPGA golf pro, is teaming up with ERC to provide female golfers some insight on leveraging business (and fun!) out on the golf course this summer.
Just as golf is a great sport for weekend outings with friends, it is equally fit for helping businesswomen build relationships with their customers and clients. Jamie comments that since golf is played in 2.5 to 4.5 hour games, players are able to spend a great deal of quality time getting to know one another. In this sense, golfing is an ideal time to pitch an idea, obtain a new client, or make a sale. As Jamie puts it,
"Golf etiquette imitates business etiquette. Knowing basic golf etiquette will help you impress any potential business partner."
Jamie explains that on the golf course, players must practice patience, be courteous, and attentive. Since there are no referees in golf, players are expected to call penalties on themselves. A golfer shows integrity by calling a penalty when they are in the wrong - also a critical business skill. Jamie comments that by the time your round of golf is complete, you will know your fellow players well enough to make an educated business decision.
As a professional female golfer, Jamie knows firsthand the importance of distinguishing differences between business golfing and golfing for pleasure. While golfing for pleasure is more about you (setting personal goals and having a great time), business golfing is 100% about the customer or client. When out on a business golf trip, Jamie recommends focusing on communication and etiquette, rather than playing your best game ever. She states that while you don't want to play terribly, you don't need to zero-in on winning, either. Jamie suggests,
"Use opportune moments, such as lag time in-between tees or time traveling to your ball, as a chance to get to know your golfing partner."
The importance of practicing good golf etiquette cannot be overstated. Jamie believes that learning and practicing these rules can help make you a more enjoyable person to play with, and a more successful business golfer. She notes that while it is helpful to be decent at the game, the most vital part of golfing for business is etiquette. By knowing the basic rules of when to talk and where to stand, you will make the game much more enjoyable (and productive!) for all players involved.
Jamie also recommends taking some golf lessons. She states that lessons are critical, since golf is not an easy game to teach yourself.
"You want to know what you're doing when you play with customers and clients. By mastering some of the basic golf techniques, your golfing partner will know that you take the game seriously and therefore, take the business meeting seriously, too."
In closing, Jamie shares her top five tips for helping women succeed on the golf course - both in their personal game and in their business pursuits:
Take lessons before you play on the course.
Get a club-fitting before purchasing any golf clubs.
Start golfing at Par 3 courses or the most forward golf tees.
Always show up 30 minutes prior to your tee time.
Make sure to call the course ahead of time for dress code rules.