Recap: Employment Law - The Year Ahead
ERC's 2013 "Employment Law: The Year Ahead" program featured presentations from three attorneys at Buckingham, Doolittle, & Burroughs LLP which covered major topics in employment law related to the NLRB, Affordable Care Act, and expected regulations for 2013.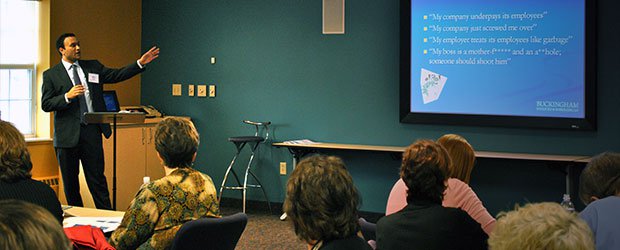 1. NLRB
Unconstitutional Board Appointments
Neil Bhagat led the program with an update on the NLRB. While the Federal Appeals Court invalidated decisions made by the National Labor Relations Board (NLRB) when it determined that President Obama acted unconstitutionally by making recess appointments to the Board, Bhagat explained that employers should use the Board's recent decisions as guidance until a decision is made on whether the Board's decisions are binding or not.
Social Media
As the NLRB has been targeting social media policies in the last year, Bhagat suggested the following:
All companies should have a social media policy and be updating it frequently.
Do not make your social media policy too broad. Broad policies have been targeted by the NLRB.
Make sure that you are not barring employees from engaging in concerted activity under the National Labor Relations Act (NLRA) in your social media policy. Include the disclaimer: "this social media policy does not bar activity protected by law."
Provide lists and specific examples of behaviors or postings that are not permissible.
Use a multi-factor test to determine whether an employee should be disciplined for inappropriate social media activity:

Does the posting refer to terms and conditions of employment?
Is the posting concerted activity?
Was the posting civil? (did not include profane language)

"Private" posts can be acted upon by employers as nothing is truly "private" once it is posted online.
At-Will Disclaimers
Bhagat also touched upon the NLRB's recent scrutiny of at-will employment disclaimers. He noted that when determining whether an at-will disclaimer is unlawful, employers should consider whether it is overly broad, whether it prohibits an employee from trying to change his/her at-will status, whether there is language requiring an employee to promise that he or she will not try to change his at-will status, and whether there is language restricting employees from engaging in collective action.
Additionally, organizations should consider including language which makes clear that an employee's employment status can change with written authorization from the employer, and that the policy does not intend to bar concerted activity.

2. Affordable Care Act
The second presenter, Amanda Quan, explained the most crucial components of the Affordable Care Act. To simplify the law's provisions for employers, Quan explained that the law consists of three major components: the individual mandate, employer mandate, and healthcare exchanges.
Individual Mandate
Quan explained that the individual mandate will require individuals to obtain health insurance coverage or be taxed if they do not obtain coverage. Employees have two options: 1) take health insurance through their employer (or through their spouse's employer) or 2) buy health insurance through the exchanges. Beginning in 2014, if employees do not obtain health insurance coverage, they will have to pay a tax penalty. The amount of these penalties will be continually assessed each year.
Employer Mandate
Quan also explained that under the employer mandate, organizations that have 50+ full-time/full-time equivalent employees will need to offer health insurance to full-time employees who work 30 or more hours per week. Quan suggested that if any employer is "on the fence" in terms of how many employees they have, they should seek legal assistance as soon as possible in determining whether or not they need to offer coverage and in clarifying the employer mandate calculation.
As part of this mandate, employers with 50+ full-time/full-time equivalent employees need to not only offer coverage, but also offer both minimum essential coverage and affordable coverage, or pay a penalty. There will be a calculator made available to employers to determine whether they offer minimum essential coverage "where the policy pays out at least 60% of the actuarial value of the covered benefits."
Meanwhile, to determine whether you offer affordable coverage, Quan advises that employers look at their lowest tier health plan for single employees and compare it to employees' household income (Box 1 on W2). If employees do not have to pay more than 9.5% of their household income towards health insurance, then coverage is considered affordable. She recommended that employers start tracking and looking at this information as soon as possible, and that organizations pay attention to how demotions and other employment actions will affect employees' pay and thereby whether coverage is considered "affordable."
Exchanges
States are designing exchanges that will include five standard tiers of insurance coverage: platinum, gold, silver, bronze, and catastrophic. Quan recommended that employers refer to the Massachusetts exchange to learn more about how these exchanges will likely be set up by other states.
3. Expected New Employment Law Regulations
Barry Freeman concluded the program by summarizing several employment law regulations that the federal government may pursue in 2013. These were related to workplace safety, exempt/non-exempt status issues for domestic service workers/home health care aids, gun control in the workplace, increase in the federal minimum wage, amendment of the Family Medical Leave Act (FMLA) to include paid sick leave, gender income equity/equal pay, and immigration reform.
Rest assured, 2013 represents a year of numerous legal developments for employers. Be sure your organization understands these developments to stay compliant with the changing employment law landscape.
Additional Resources
ERC and Employer Risk Solutions Company (ERSco) offer a unique and innovative service that will end the headaches of compiling and maintaining a legally compliant employee handbook. This service creates a customized, legally-sound, and easy-to-understand employee handbook that is automatically updated each year.