New Graduate and Intern Compensation Trends
The 2013 ERC/NOCHE Intern & Recent Graduate Pay Rates & Practices Survey, conducted annually through a partnership between the Northeast Ohio Council on Higher Education (NOCHE) and ERC, reports that 57% of the organizations surveyed have a formal internship program in place. In addition, the same proportion of respondents are either in the process of hiring or are planning to hire new college graduates in 2013. This strong connection between the area's higher education institutions and local employers also seems to be translating into positive compensation trends for many interns and new graduates, particularly in highly technical fields of study such as engineering.
Compensating Interns
Although there is still some debate over paid versus unpaid internships, the 2013 survey indicates that the vast majority of internships are paid. In fact, after stagnating from 2011 to 2012, the average hourly pay rate for interns across all fields of study saw an increase of nearly one dollar in 2013. While certain fields saw larger increases than others. For example, engineering interns are making more than interns working in the non-profit sector- but these differences were largely unsurprising and fall largely in line with overall compensation trends for their respective industries more generally.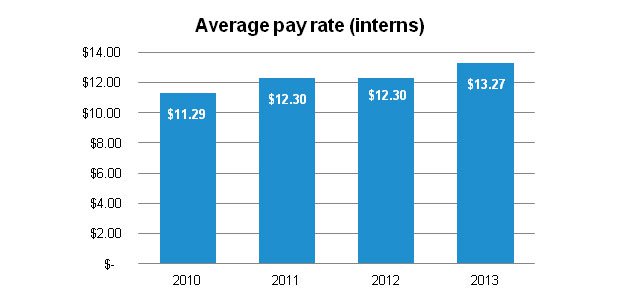 New Graduate Salaries
The compensation offered to new college graduates shows similar trends to the intern pay rates shown above. In addition to a strong showing for engineering, other average starting salaries that saw increases from 2012 to 2013 include graduates with bachelor degrees in information technology (IT), accounting, marketing, and business administration.
The number of organizations providing signing bonuses to their newly hired recent graduates remains low at only 11%, but the average dollar amount saw a fairly significant increase over 2012- up to $3,667. The largest signing bonuses continue to be most common among larger employers and virtually no organizations in the non-profit breakout indicated they provided any such bonus.
View the Intern & Recent Graduate Pay Rates & Practices Survey
This survey reports data from Northeast Ohio employers about their internship and recent graduate employment and pay practices.