Companies Share Common Internship Program Goals
As the school year begins to wind down, your organization may be looking to hire some additional support over the summer in the form of a college intern. While each organization will undoubtedly vary in terms of the specific needs the internship is designed to fill, the results of the 2013 ERC/NOCHE Intern & Recent Graduate Survey strongly suggest that in general, organizations hiring interns are doing so with a common set of goals in mind.
Top among these goals are "developing a talent pipeline", "assisting with special project work", and "obtaining affordable workforce support". Reaching the two latter goals sounds fairly straight forward- hire an intern for a few months over the summer and hand off some administrative busy-work. However, this conventional approach to internships fails to help, and in many cases may actually hinder, organizations looking to realize the lasting benefits associated with "developing a talent pipeline". Instead of taking a passive approach to internships, developing a talent pipeline requires a more actively engaged employer.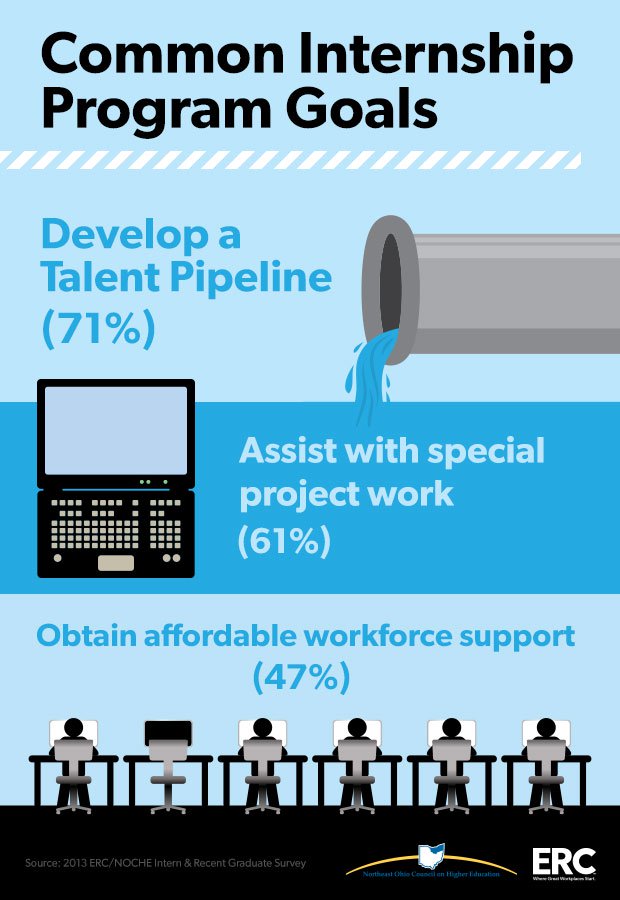 Once again looking to the ERC/NOCHE survey for insight, there are numerous examples of how local organizations are pursuing talent development through their intern programs.
Training & Development
Helping interns get acclimated to their new environment in your workplace is key to getting them off to a good start- 90% of organizations do this by providing interns with an orientation within the first week of employment. To build on this strong support system throughout the internship, a wide majority of respondents report that they provide interns with at battery of development tools including, regular feedback and coaching (88%), access to a mentor (66%) and performance evaluation (63%). Whether an intern is interacting with a mentor or a supervisor, there is a clear focus on feedback and coaching. In terms of training, organizations provided an extensive list of specific training opportunities that they make available to their interns. Formal training is offered by 56% of respondents.
Benefits & Ongoing Engagement
While interns are often only employed at an organization for a short period of time, effective engagement is just as important as it would be for any other new employee. Some organizations achieve this by paying for or allowing interns to attend the organization's social events (33%) or networking events (22%). Others provide benefits such as rewards and recognition (27%) or on-site perks like use of a fitness center (20%).
Even after an internship has come to a close, many employers want to continue to engage their (now former) interns. Just under half of organizations report rehiring interns over multiple years (48%) and 57% continue to communicate directly with past interns. Almost all organizations have offered some or all of their past interns full time employment at some point in time.
For more information on the employment practices of Northeast Ohio organizations that are hiring interns and recent graduates view the full 2013 ERC/NOCHE Intern & Recent Graduate Pay Rates & Practices Survey report here.