Beyond FMLA: Other Leaves of Absence
Approximately 76% of Northeast Ohio organizations provide benefits under the FMLA, with larger organizations (those over 100 employees), offering benefits with an unsurprisingly much higher frequency. These numbers put the region just slightly below the national sample reported by the 2013-2014 Policies & Benefits Survey - by about 5%.
In addition to exploring a number of questions related to FMLA administration and processes, this same survey also looks at how organizations manage leaves of absence that may not fall within FMLA. In fact, a strong majority of participating organizations provide their employees with at least one other type of leave of absence other than FMLA at both the local (68%) and national (74%) levels.
Other types of non-FMLA leaves of absence reported are displayed in the figure below, with national and local frequencies seeing similarly sized gaps for several individual types of leave as were reported for the overall frequency. Each type of leave was offered to employees across the board, with the exception of union employees in production, maintenance, and service.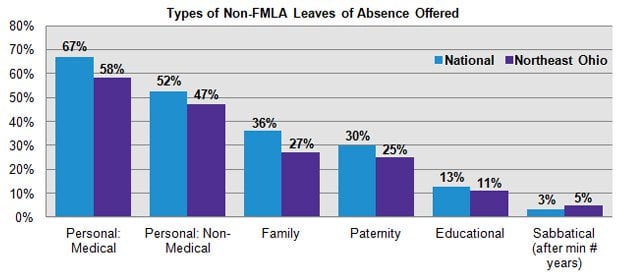 Within each of these types of leave, employers reported attendance policies and absence management efforts, with various levels of flexibility in terms of which types of specific situations were more or less acceptable. Again, a wide majority of employers both nationally and locally reported having at least one or more types of absences that could be taken without the employee incurring a penalty.
Interestingly, although Northeast Ohio employers fell slightly below national numbers for all of the specific situational categories as well, 59% of Northeast Ohio employers indicated that decisions to apply a penalty were based upon "management's discretion". Compared to 54% nationally, this suggests that while local employers may have more restrictive policies on the books than nationally, Northeast Ohio organizations may have a bit more flexibility in terms of actually applying punitive measures to their employees.
Additional Resources
ERC's Policies & Benefits Survey is our most comprehensive resource for workplace practices & benefits data encompassing health and welfare benefits, retirement benefits, paid time off, working conditions, part-time employee benefits, recruiting, training and development and employee/community relations. For more information or to purchase this survey please click here or contact ERC directly at surveys@yourERC.com or 440-684-9700.