HR Leader Pyles Rejoins ERC as Director, Consulting & Member Services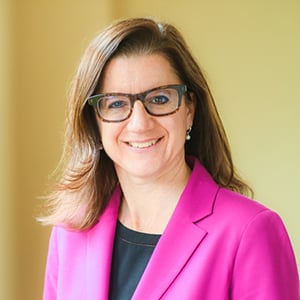 Highland Heights, Ohio – ERC, the human resource organization that provides training, consulting, research, and HR support services locally and nationally, is pleased to announce that Susan Pyles has rejoined the company as Director, Consulting & Member Services.
Susan brings more than 20 years of award-winning achievements in talent management and assessment, performance management, employee experience, HR analytics, leadership development, coaching, and workforce planning.
She initially served ERC between 2007 and 2014 as a Practice Leader and Senior Consultant. In these roles, she led a variety of client and member initiatives, including performance management and career development systems, selection processes and tools, and leadership development and executive coaching programs. She also spearheaded projects for talent assessment, organizational design, and strategic planning.
"We're thrilled to have Susan back on our leadership team. The timing of this opportunity was perfectly aligned with our mutual interests and goals," said ERC President Kelly Keefe. "Susan will play a central role in helping us enrich our relationships with clients and members so we can be of even greater service and value to them."
Previously, Susan was Director, Global Talent Management & HR Business Partner at MTD Products, a worldwide leader in outdoor power equipment. Prior to MTD, she was Manager, Talent Development at Invacare, a global pioneer in home and long-term care medical products.
Before originally joining ERC, Susan spent a decade in the nationally acclaimed learning and performance department of Ohio Savings/AmTrust Bank, ultimately leading the department as Vice President. Under her leadership, Ohio Savings was a multi-year recipient of ERC's NorthCoast 99 Award and Training magazine's Top 100 Award.
"I wasn't actively seeking a new position when ERC reached out, but as our conversations progressed, so did the undeniable appeal of returning to the company," said Susan. "In addition to the exciting prospects of the role itself, ERC's culture has always been a big draw for me. And now, I'm officially part of the boomerang trend!"
"Given the outstanding national and international workplaces that Susan has helped develop elsewhere, it's an honor that she's chosen to call ERC home again," said ERC Senior Vice President Carrie Morse, who oversees all practice areas of the organization. "I'm confident that Susan will make notable, refreshing contributions to ERC's purpose, which is to help make workplaces great."
Susan holds a Master of Arts degree in communication studies from Kent State University and a Bachelor of Business Management degree, with a minor in communications, from Ohio University. She is a member of the Society for Human Resource Management (SHRM) and registered corporate coach who carries nearly a dozen HR assessment certifications.
About ERC
Founded in 1920, ERC helps organizations make their workplaces great by providing expert people solutions that include training, consulting, research, and HR support services. We're the creators and producers of NorthCoast 99, an annual awards program in its 21st year that honors exceptional Northeast Ohio employers for top talent. ERC also sponsors the ERChealth insurance program in Ohio.