From Leader to Leader: ERC President Kelly Keefe Talks Total Rewards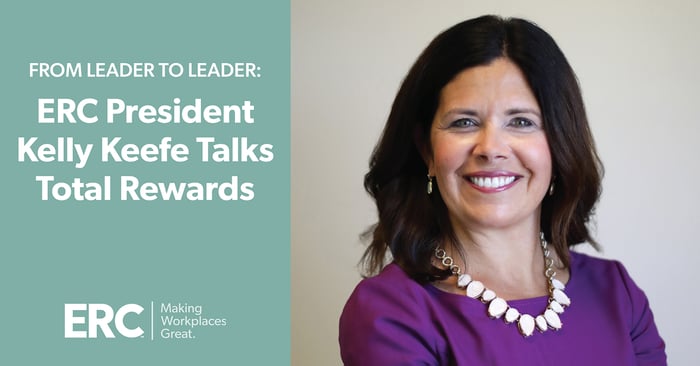 Compensation matters. Whether it's the familiar refrain of news stories about job hopping for massive pay raises or ERC's own top-performer data that confirms it, employees are placing a higher value on their compensation now than ever before.
Why not capitalize on this trend and share with your employees the entire picture of all that your organization has invested in them?

Without delving into complex compensation strategies or even spending a dime, here are three practical tactics that you can implement to help ensure employees understand, as well as find value in, your organization's overall monetary investment in them as individuals both now and into the future.
1. Design a Total Rewards Statement
Employees can easily see how much money comes through in each paycheck, but your full investment in them isn't nearly as accessible or visible as their bank account. Over half (54%) of the 2022 NorthCoast 99 winners spell out that investment for their employees by providing them with Total Rewards Statements.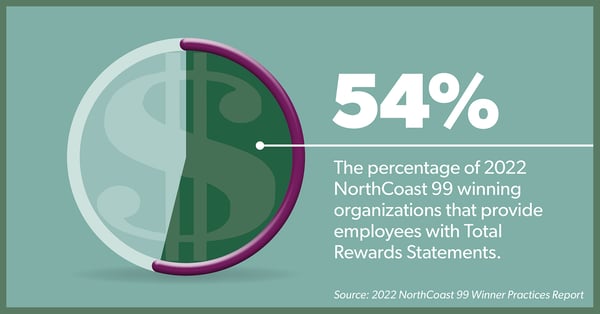 It may feel overwhelming to decide what should be included in a Total Rewards Statement if you are starting from scratch. But the good news is, there is no right or wrong answer.
Start with the basics in terms of pay and benefits and add on from there over time. Your HR and accounting departments should be able to pull together documents that itemize your organization's investment in each employee. The time and effort required to compile these statements may vary depending on both the level of detail you choose to report, as well your employee count.
Examples of What to Include in Your Total Rewards Statement:
Base pay

Bonuses & other variable compensation

Medical, dental, vision coverage

Dependent care account

Paid time off (or vacation & sick/personal time)

Employee Assistance Plan

Tuition reimbursement

Clothing allowances

Gifts & meals

Life insurance premiums

Retirement plan / 401k contributions

Social Security contributions

Supplemental insurances (e.g., AD&D, Critical Care, Hospitalization, etc.)

Training & development
2. Ask Your Employees
Now that all parties involved have a better sense of what your organization is bringing to the table, take this one step further and look for gaps in what is being provided.
And don't just take our word for it, ask your employees what they would like to see. Find out how they would like to be rewarded for their hard work. There is no sense in creating a new program if it's not something your workforce finds useful or valuable!
To gather this information, consider what top organizations in Northeast Ohio do. Seventy percent of NorthCoast 99 winners formally asked employees what types of rewards and recognition they find most valuable.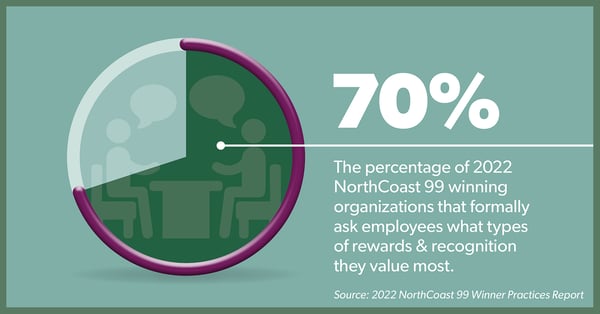 3. Take Action
These organizations then looked at the data they collected and took action.
From personalizing the types of rewards and recognition distributed, to making changes to organizational policies outside of rewards and recognition specifically (e.g. increasing PTO, adding tuition reimbursement, etc.), these organizations were able to add items to the Total Rewards Statement that reflected what their employees actually want.
Ultimately, by increasing the visibility of your investment with a Total Rewards Statement and continuing to refine your investment by asking employees what they value most, your organization will construct its own powerful feedback loop. This will allow your organization to successfully share and refine your Total Rewards program for years to come.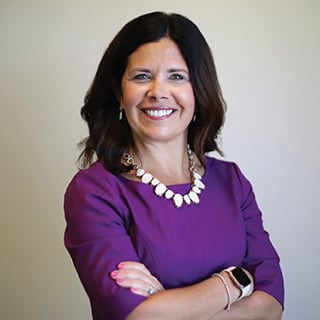 Kelly Keefe, SHRM-SCP
President, ERC